Tracking Your Law Firm's SEO Success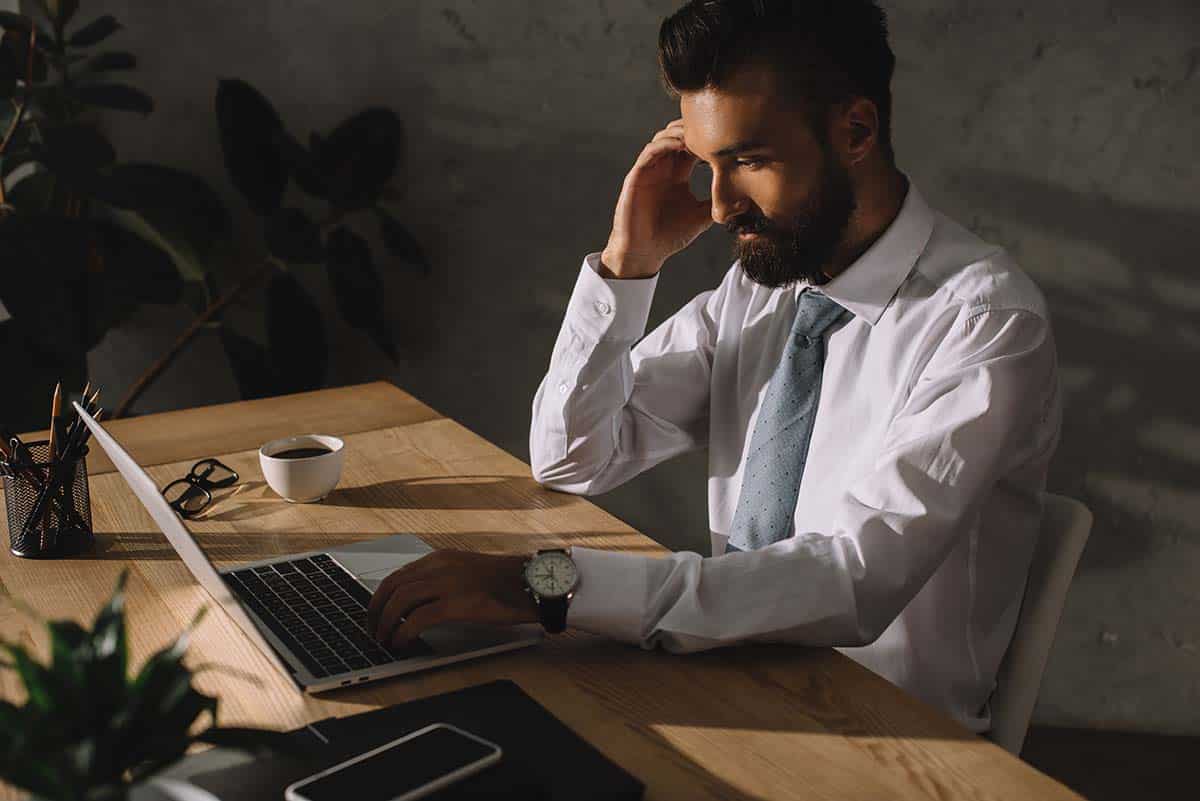 When diving into digital marketing, data is everything. You must have the most reliable of information available in order to determine the best course of action.
Tracking will help you know what you're doing that is working and what is not working.
With that being said, here are some of the top, and most utilized, tracking solutions for an array of metrics.
Google Analytics
Google Analytics, also known as GA, is a behemoth website analysis tool. The best part is that it is free to use. Your law firm can track almost anything happening on your website with GA.
A major update to the Google Analytics software occurred a few months ago. This update introduced GA4. There are some great upsides to this new release. The major downside is that it does take a lot more knowledge to set up properly.
What are some of the things you can track with GA4?
First and foremost, you can track user behavior to your website. This is the core feature of Google Analytics. This tracking includes knowledge into what pages people visited, what page users first entered your firm's site on, what page they exited from,and how long they stayed.
Even with little-to-no configuration, you will know what the most popular pages are and a basic understanding about how engaging your pages are.
You can track specific types of traffic and audiences. This feature will help you determine what marketing methods are most effective for your firm.
You can track events, such as when someone fills out a contact form. With the help of call tracking, you can also know when someone places a phone call. Event tracking does require a bit more setup, but it's well worth the extra data.
With GA4, you can also create advanced tracking comparisons, funnel analysis, audience segmentation, and more. I won't get too much into these because they are more on the advanced side of analysis.
I will say that Google Analytics is the standard when it comes to tracking what's happening on your law firm's website.
Google Search Console
If you want to grow the number of people who come to your firm's website through search engines, it's a good idea to know if there are any errors that are encountered by Google's crawlers. This is where Google Search Console comes into play.
With Google Search Console you have a – somewhat – direct line of communication with Google. At least, this is the closest connection you will have with the inner workings of Google.
If Google's crawler has a problem accessing parts of your website, your firm's site received a manual penalty, your website isn't mobile friendly, or other coverage issues exist, an error will show in your search console.
Another great use of your Google Search Console is see what search terms your pages are ranking for but don't yet discuss on the page. You can use this information to expand your pages to rank better.
Google Search Console is a must have reporting tool for any SEO. Without it, you're flying blind.
Google Maps Tracking
There are several rank tracking tools that I'll discuss momentarily. For now, I'm going to talk specifically about tracking your map rankings. Google Maps is a separate system from Google Search.
Your ranking on Google Maps changes from one street block to another. Therefore, you want a tracking solution that can granularly track what position your firm shows up for your target keywords.
Thankfully, a handful of solutions have emerged over the past couple of years. A couple of service providers that we prefer are Local Viking and Mobile Moxie.
Each of the above providers offers a separate set of solutions and each is a great option for tracking how your law firm appears. One huge difference is that Local Viking will display a grid over the surrounding streets and Mobile Moxie will show you the actual search results on an emulated mobile device. Which method is better is a personal preference.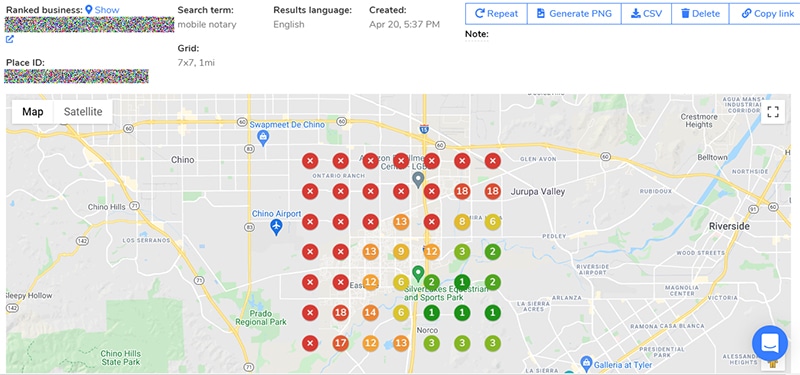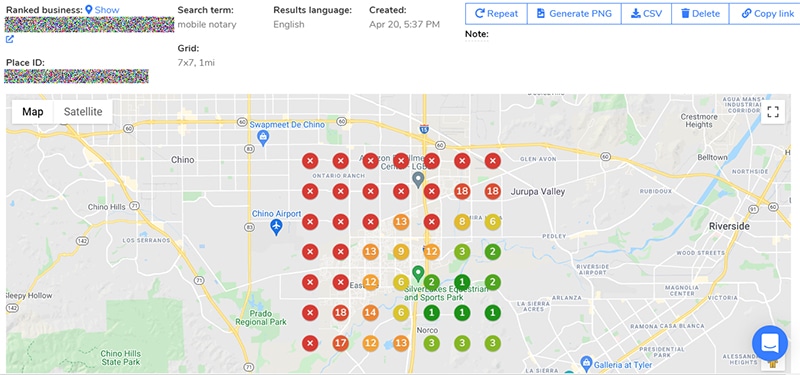 Form Submission Tracking
If you're going to be making marketing decisions for your law firm, you want to know when a visitor becomes a lead. The first of the two most common ways that a visitor becomes a lead is through form submissions from your website.
You can track lead submissions via Google Analytics but you also want to track your leads via your client relationship management (CRM) system too. Doing so will help you determine if the lead converts into a client.
So, be sure to call your CRM provider and ask them how you can automate this process.
If you use the same pages for paid traffic and organic traffic, it is highly advisable to track referral data. This will help give proper attribution to the marketing method that triggered the person to convert to a lead.
If you're using WordPress for your website, there are a number of contact form plugins that will do this for you. You want to check out their help documentation to see if either "referral" data or "gclid" can automatically be gathered.
The GCLID is the unique Google Click ID that is added to every click that comes from a Google ad. So, if there is a GCLID, you can be sure that the lead came from a Google ad.
Some call tracking providers also provide form tracking as part of their service offering.
Call Tracking
Most attorneys prefer that a lead call them directly. It gives the greatest chance of converting that lead into a signed client. The only problem is that you need to know how that lead found you. This is where call tracking comes into play.
With call tracking, you "create" phone numbers within your online account that you can use on your various advertising campaigns. When a person calls the tracking number it forwards to whatever number you previously designated.
So, if you have a specific number that is displayed on your Google My Business account, and someone calls that number, you can later see that caller ID and basic call information. Therefore, you know that a call was received and you can rate the call based on its quality.
Call tracking service providers also allow you to record the phone conversations for later review. This feature is helpful in determining the quality of the call that came in.
Other advanced features are also available from the top call tracking providers. A couple of the more popular are:
Dynamic Number Insertion. This feature allows you to have an array of numbers in a "bucket." Then you designate a number, or numbers, on your website that you want to swap out with tracking numbers. When a visitor arrives, your website's phone number is swapped with one from the bucket. This helps to better identify callers when you have multiple visitors to the same page from different sources or campaigns.
Routing. With call routing, you can set up more complex rules and automation. A couple of examples are routing a call to numerous phone numbers to answer the call, have different rules based on the day or time, or even presenting call menus to callers to select from different menu options.
One thing that is certain is that call tracking is a must if you are deploying any paid online advertising. The costs involved are well worth having the knowledge of where to put your advertising budget.
If you are looking for a reliable call tracking option for your law firm, two of the most popular call tracking solution providers are Call Tracking Metrics and CallRail.
Call Tracking Number and NAP
One concern that arises now and again is how call tracking numbers can affect the consistency of your NAP. The acronym stands for Name, Address, and Phone number.
Having consistent information about your law firm throughout the Internet is believed to help your ranking on Google Maps. NAP consistency is much less of an issue in comparison to years past. But, there are a couple of good points to keep in mind.
First, if you are using dynamic number insertion on your website for organic traffic, there is little worry about the number being swapped. Google does see the first number, prior to the number swapping. So, the swapping of your number is unlikely to have a negative effect.
Second, if you are using a static tracking number to determine the profitability of a directory, it would be a good idea to rotate the directories that you are testing and only test for a couple of months at a time.
Lastly, remember that your Google My Business listing does allow for you to list three phone numbers. This means that you can associate two tracking numbers to your firm's listings and still use the primary phone number to designate the number that you want people to call.
Conversion Tracking
Getting new clients and watching your law firm grow in revenue is always exciting. What's even better is being able to track and consistently replicate the success. When you know where your clients are coming from, you will be able to determine where to put your efforts.
Conversion tracking is all about knowing, at a glance, what is working and what is not.
Ideally, you have a client relationship management system (CRM). If you don't you want to consider shopping around for one. Your CRM will help you to better organize your leads and clients. In turn, doing so will help to strengthen your business relationships.
When shopping for a CRM, be sure that the system you choose integrates with your call tracking, form submissions, and any other incoming lead sources. This automation will save you a lot of headaches in the future.
Keyword Rank Tracking
The success of your SEO campaign depends on accurate data. The cornerstone of data will be how your search engine rankings fluctuate based on changes to your site. It is important to know how your site is ranking among a number of keywords in a variety of locations around your office.
Most keyword tracking software will track both desktop and mobile results from Google. Don't forget that you also want to track your Google Maps placements too.
For tracking mobile and desktop keywords on Google's search engine, we prefer to use Stat, Accuranker, and aHrefs (in no particular order).
To track Google Maps rankings, we turn to Mobile Moxie, Local Viking, Stat, or Accuranker.
What Terms To Track
You may be wondering exactly what search terms and phrases you should be tracking. Luckily, there are a few simple tasks that will help you out.
First, you want to track those terms and variations that best describe what practice areas your firm handles. It is better to track a longer, more exact, search phrase because they are more likely to convert into a lead.
Tracking "lawyer in Los Angeles" is too broad and much less likely to convert when compared to "car accident lawyer in Los Angeles."
Second, you want to use Google Search Console to discover search terms that have a high amount of impressions and are specific to what you offer.
Third, you should track in the same city or zip of where your firm's offices are located. This means that your keyword tracking will be replicated across multiple cities.
Now, there are several other considerations that can expand your keyword tracking. These steps are a great entry point for your keyword tracking.
Uncovering Opportunities
Similar to using Google Search Console to uncover search phrases that you can expand your pages to include, your keyword tracking can help you prioritize your SEO efforts.
As you track your target search phrases and keywords, you will notice that certain pages have clusters of keywords that are on the cusp of ranking on the front page. When you categorize these keywords and pages, you can uncover some great opportunities.
By focusing on the pages with the greatest amount of cusp keywords, you will be able to achieve the greatest potential return on your efforts.
If you focus your optimization efforts to enhance a page with numerous cusp keywords, getting those phrases to be listed on the front page will require less effort and give you the greatest benefits.
Competitive Keyword Analysis
Now that you have an in-depth list of keywords to track, you should also take note of who is ranking on the top of those keywords.
Once you have identified the top-performing competitors, look and see what they are doing.
How is their site structured?
What content is on their pages that is ranking well?
What supporting articles are published on their site?
And most importantly, what are they missing that you can take advantage of?