Local SEO For Lawyers: How to optimize your law firm for Google Maps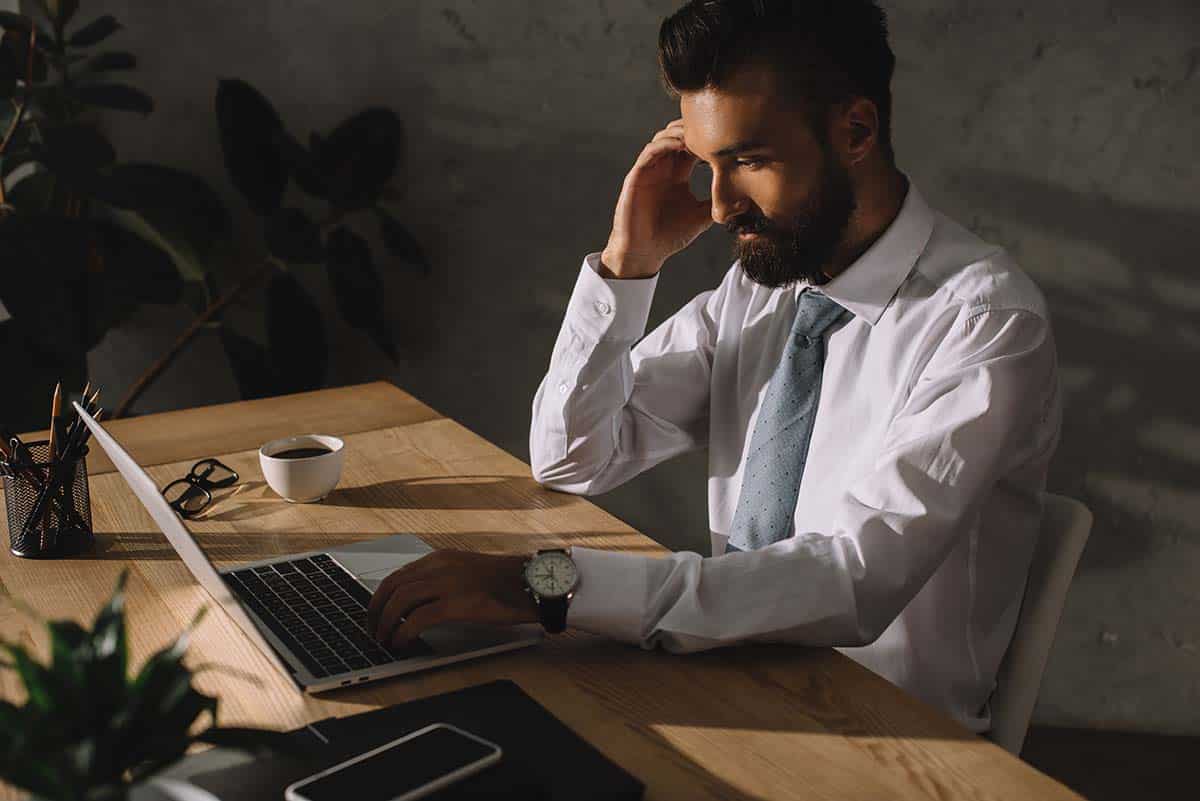 Local search engine optimization concentrates on attaining top rankings on Google Maps. Often a top-three ranking will equate to showing up on the "Map Pack." This Map Pack will skip you to the front of the line within the search engine result pages (SERPs).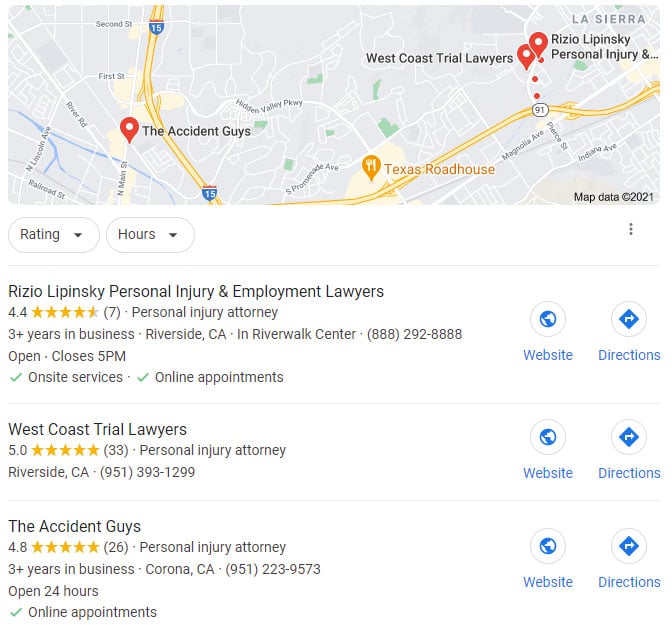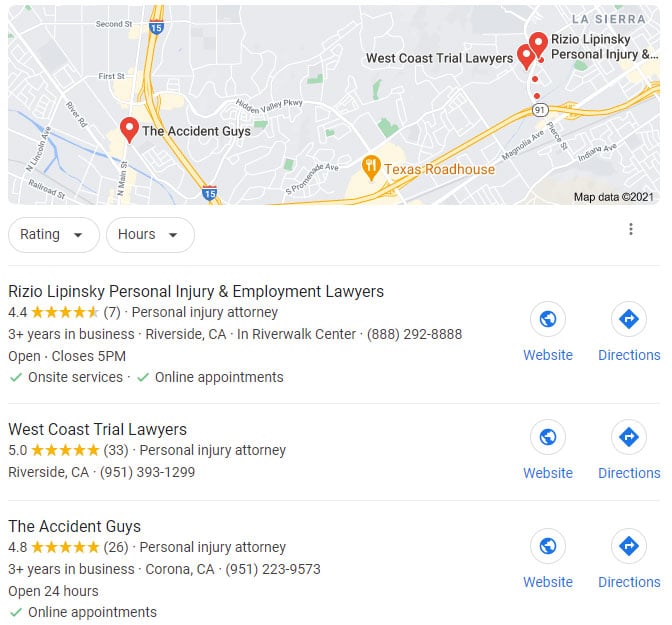 In most cases where a Map is displayed in the SERPs, that search feature is displayed above the traditional organic listings. This will give you a significant advantage over organic listings in terms of visibility when a map listing is shown.
In addition to greater comparative visibility, Map Pack listings allow for the searcher to call your law firm directly from the search results. Plus, trustworthy reviews are displayed along with other pertinent information about your firm.
Finally, achieving top rankings on Google Maps can occur faster in comparison to traditional organic SEO. So, if you have a new website, Google Maps can be a secret weapon to launching your law firm!
Looking to "hire it out?" Our SEO service for law firms may be the right fit for you! Read more about our search engine optimization for lawyers.
Claim Your GMB Listing
Activating your Google My Business listings is a straightforward process. You want to start by going to https://www.google.com/business/ and clicking "Manage Now." You will then be able to follow several prompts where you will fill out your business's information.
There are a couple of items to note. The first is that selecting the correct categories is important. You will probably want to include "Law Firm" and then at least one other category. One easy way to find the best category is to perform a search for your area of law and see what categories your competitors are using.


Second, most lawyers have an office where they conduct business. If this is not the case for your firm, and you visit your clients at their location, you are a service area business (SAB). If you are a SAB, you will want to answer "no" to the question, "Do you want to add a location customers can visit?"
Also, even though you can most likely service the entire state, you will want to select the city that you primarily operate from. It is unlikely that your GMB listing will garner a high ranking throughout an entire state.
Most likely, you will be notified that you will be receiving a postcard in the mail with a pin number. This can take a week or two to arrive.
Optimizing Your GMB Listing
While creating your Google My Business listing, there are a couple of areas that you want to take into consideration. Aside from the previously mentioned category selection, here are some points of optimization for your Google My Business listing:
Business Name
Having keywords included in the name of your business does help to increase your ranking. Many businesses owners have complained about this because it rewards using spammy company names, such as "Los Angeles Car Accident Lawyer – Attorney."
Using a name that is not the legal name of your entity is a violation of Google's terms of service. The most likely repercussion is that Google will eventually change your name or issue a soft suspension against your listing.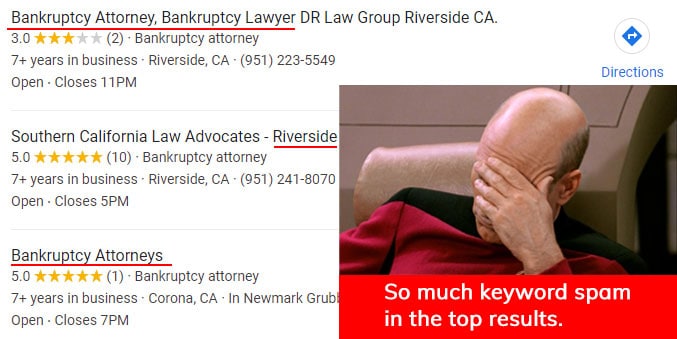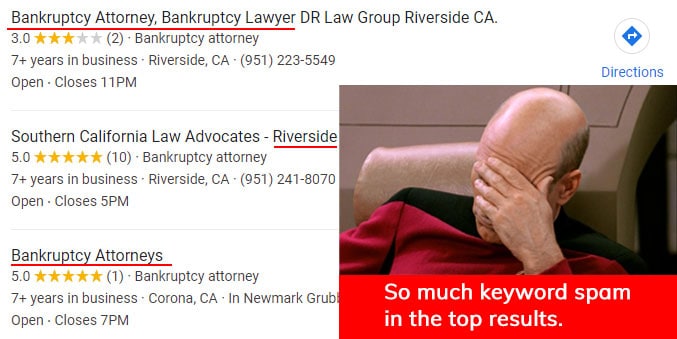 I'm not advocating breaking the TOS for your Google listings. I'm merely pointing out what are ranking factors in a Google My Business listing. Hopefully, Google will eventually stop this silly practice because it does cause problems.
Proximity
The purpose of a Google My Business listing is for people to find local businesses. So, it makes sense that a business that is closer to the searcher will have a better chance of showing up.
If you haven't selected a location for your business yet, it may be beneficial to research where you have lower competition and a greater density of target clientele.
A Word About Virtual Offices
Because proximity plays an important role in Google Maps, it is not uncommon for a law firm to take advantage of this by creating multiple offices throughout a region with the help of virtual offices. Some large-scale virtual office suppliers, such as Regus and Davinci, are used most often.
While You Wait For Your GMB Postcard
With a normal delay of one to two weeks before your verification postcard arrives from Google, you want to take advantage of that time and put in some foundational work. First, let's get your law firm's Google My Business listing completed.
Description and Additional Information
There is no need to keyword stuff the description of your firm's listing. Keep it simple, descriptive, and include your competitive advantages. This section is where your potential clients will read a little bit about your firm and why they should take that next step in calling you. Plus, your description has the added value of taking up more real estate in the SERPs.
You should also add your services and include any additional highlights, such as LGBTQ-friendly. The idea is to make your profile as complete as possible before you receive your verification postcard because it will allow you to hit the ground running.
Social Profiles
Create profiles for your firm on major social media platforms. You do not need to create a profile on every platform on the Internet. Select the sites that your target audience is most likely to use. Some of the most popular social platforms include Facebook, Twitter, Instagram, and LinkedIn.
Get Your Yelp Listing
If you don't have a Yelp listing, now is the time to sign up for your free listing. A Yelp representative will most likely call you and pitch spending money on ads. You will want to pass on the ads for now. You can always run a test later. For now, the free listing is what you want.
You want to be sure and fill out every item in your profile. Upload photos of yourself, your business location, and any accolades that you wish to share. Finally, set up online messaging so that visitors can request an online consultation.
Industry Directories
Now that your Yelp listing and social profiles are complete, it's time to add your firm to the top industry directories. There are plenty of legal directories out there, you want to concentrate on the most popular ones. These are more likely to positively impact your ranking. Plus, they will drive referral traffic and phone calls.
Click here to see a list of the top lawyer directories
General Business Directories
One of the final steps to take while you are awaiting the postcard that allows you to verify your Google business listing is to add your firm's information to the top general business directories. In addition to the top general business directories, you want to add your business listing to data aggregators. Doing so will syndicate your business information throughout the Internet over time.
As of this posting, there are only two data aggregation websites left. They are Localeze and Infogroup. Both systems offer a paid listing and we recommend using the paid listing as they allow you to add the greatest amount of details regarding your firm.
There are a few services that will allow you to manage your listings from one place. The most popular are Yext and Synup.
Complete your GMB profile
A few additional optimization options are available. Most of these are opportunities to increase the visibility of your business listing. Even though they may not directly increase your ranking, these enhancements will take up more real estate on Google and can increase the conversion rate for your law firm's profile listing.
Google Images and Media
Adding photos and videos to your listing will increase your visibility. At a minimum, you should add a cover photo, your logo, photos of your building or office, and photos of the most prominent attorneys at your firm. Videos will have to be short in length and of smaller file size. At the time of this publication, the maximum video length allowed is 30 seconds. The largest file size for Google My Business videos is 100MB.
Additional Profile Information
The focus of any additional profile information is found under the Info menu option. Pay attention to the Highlights section because the selected highlights may be shown on your profile to viewers. If your firm has multiple locations, you should use the store codes to help you to stay better organized.
Posts
Similar to posting to a social network, you can also post to your Google profile. Google Posts can have an image or short video attributed to them. The video restrictions are the same as those with adding profile videos (30-second length and 100MB max).
The amount of effect that a post has on your ranking is highly debated. The lack of agreement amongst SEO is most likely due to Google's algorithm adjusting the ranking value. Intermittently, we see posts increase the rank for specific keywords. Also, we have witnessed firms increase their visibility by using posts. This is because Google included their listing in a search result where the only mention of the service/keyword was in their Google posts.


At a minimum, using Google Posts will give your knowledge graph greater visibility by taking up more real estate on a search page. Plus, keyword matches in Google Posts are highlighted when they match what a searcher types. This can positively impact the click rate when your firm is featured in Google's Map Pack.
Ideal Google My Business Post Size
When adding a Google Post, keep in mind that the ideal image dimensions are 1200px x 900px. The minimum size is 400px x 300px and 10KB. The largest size allowed for your Google My Business Post is 10000 x 10000 and 25MB.
Question and Answers
An often-overlooked opportunity exists with your Google listing's questions and answers. Again, the question and answers is either not a direct ranking factor or they carry low weight. So, why take part in adding questions and answers?
You Control The Narrative
One of the big advantages of creating your own questions and answers is that you get the opportunity to control the narrative within your Q&As. The alternative is to allow for the general public to both ask and answer questions.
Thus, you can get in front of the eight-ball with questions like:
"What types of bankruptcies do you handle?"
"Do you offer free consultations before I sign up?"
"How much do your services cost?"
Rating and Reporting Answers
People can either up-vote or down-vote an answer to any question. These votes dictate the order in which they appear.
If an answer is inappropriate, you can flag that answer for removal. Just know that flagging an answer doesn't guarantee that it will be removed.
Setting Your Website And Appointment URL
Once you connect your website to your Google My Business listing, the content within your website will be taken into consideration in determining what keywords are relevant to your business. Therefore, your website's content is a ranking factor for your Google My Business listing.
Multiple Google My Business Locations
If your firm has multiple locations, it is a good idea to have a Google My Business listing for each locality. For the website URL, you can either use your home page or use a web page that exists specifically for that location.
Some businesses see an increase in ranking by using specific location pages while other websites have higher rankings with always using the website's home page. You want to perform a test using both for a couple of weeks and see what works best for you.
Getting Reviews For Your Law Firm
The number of reviews and those reviews' content is a significant ranking factor for your Google My Business listing. Most attorneys struggle with getting clients to leave reviews. So, if you're struggling to get reviews for your firm, you're not alone.
The Importance Of Online Reviews
Aside from the ability to increase your ranking, your reviews are a direct reflection of your online reputation. Take these statistics into consideration when thinking about the importance of your reviews:
91% of Millenials trust online reviews as much as a personal recommendation from friends or family.(Brightlocal Link)
82% of consumers go to review sites because they want to buy a service or product. (Nelson link)
Only 36% of small businesses invest in review marketing. This means that you have the potential for big opportunities by concentrating on gathering client reviews. (Revlocal link)
Reviews As A Ranking Factor
Your Google My Business listing can rank for keywords that are in your reviews. This means that if clients include pertinent information about your business, that information can be used when Google determines if your listings should be shown.
When a search does match with the content of a review, an excerpt of the review is displayed on the search results and the search terms that match in the review are highlighted in bold.
If your business has an aggregated rating of 4 or better, your listing is available to be shown in specially filtered search results. One example is when a person prefaces their search with the word "best" or "top." As an added bonus, these terms typically convert at a higher than average rate.
Replying To Reviews
The content of your reply does not show a consistent correlation to rankings. Thus, replies are either not a ranking factor, or they hold very little weight for your Google Map rankings. This does not mean that you should ignore efforts to reply to reviews.
Your replies can be a significant factor that will help to convert potential clients who are looking at your online listing.
Instead of having the same canned response for all reviews, you want each reply to have some level of personalization. Most law firms find it useful to draw from a pre-scripted list of replies and customize them as needed.
Always be sure to avoid divulging case details as this may violate your state's bar regulations or other regulatory bodies.
Dealing With Negative Reviews
Sooner or later your law firm will receive a negative review. There is no reason to lose sleep over a negative review. Surprisingly, there are a couple of positive takeaways from receiving negative reviews.
95% of people suspect either fake reviews of reviews are censored if negative reviews are not given.
According to online reviews statistics, people spend more than 5x as long on a website when they read a negative review.
PowerReviews and Northwestern University uncovered that consumers displayed more trust when a business had an overall rating of 4.2 to 4.5 stars.
So, what do you do after you receive a negative review? Similar to responding to positive feedback, you want to have a list of pre-scripted responses that you can pull from. This helps remove emotions and increases your efficiency in replying to negative feedback.
"You can please some of the people all of the time, you can please all of the people some of the time, but you can't please all of the people all of the time."

John Lydgate
Keep in mind that your reply will be read by other people who are researching your firm. So, you are writing to those other people who want to know how your firm responds when things don't go right.
It is not uncommon for those ready to become a client to skim through your reviews, pass the positive 5-star ratings, and only read the negative reviews to see what the issues were and how your firm handled the problems.
Click here for more information on how you can get better reviews
Continue Reading > Traditional SEO
Now that you have a handle on ranking your law firm in Google Maps, it's time to take a look at traditional SEO and what you can do to increase your organic rankings!
Click here to continue on to the Traditional SEO Chapter of our SEO Guide For Lawyers