Google Bussiness Profile Optimization Cheat Sheet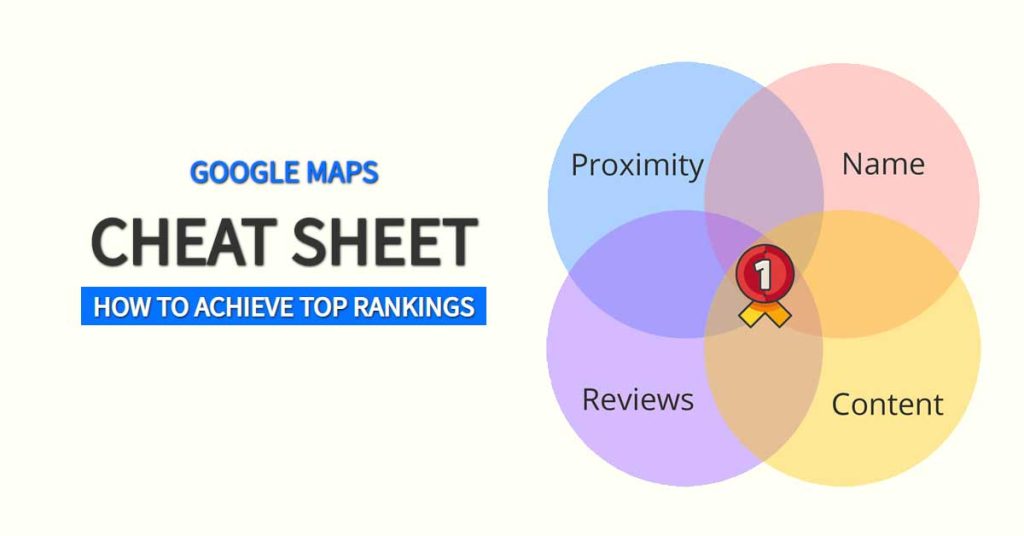 Cut to the front of the line by optimizing your Google Business Profile listing! An optimized Google Bussiness Profile listing should be part of every law firm marketer's search engine optimization strategy. Here are the top factors to help you rank better.
When you combine these signals and concentrate on those items that you can control, you will win top search rankings.
Proximity
The closer you are to the searcher, the higher the likelihood of your law firm showing up for searches that are relevant to your business.
Competition + Population
The distance that your firm can project its listing is affected by the number of law firms competing in your area. Another factor for consideration is the population density surrounding your firm. The higher the population density, the more difficult it may become to rank for further distances.
How To Optimize
By using a variety of "signals," you can increase the distance that your listing can project. These signals may include reviewers mentioning surrounding areas, website content, links from hyper-local websites.
Company Name
Law firms with names that contain the terms that a person is searching for will have a higher likelihood of showing up at the top.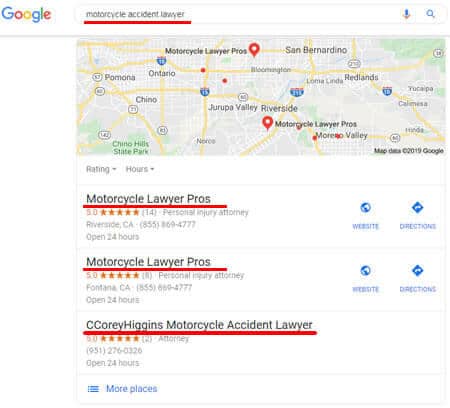 It is not uncommon for law firms to game the system by adding keywords that are not part of their legal name (keyword stuffing). This practice does work but is a term of service violation.
The weight given keyword in the business name is lowering as Google updates their algorithm
How To Optimize
The only way to optimize towards this is to change your company name on your Google Business Profile listing to include location and keyword terms. However, this is a term of service violation. You can protect your listing by reporting the listings that violate the terms of service.
Reviews
The reviews for your law firm can affect your Google Maps ranking. Both the content in their feedback and the overall ranking can give your firm an advantage.
If your firm attains an overall review rating of four stars or higher, your business listing is eligible to appear for searches that include "top" or "best."

Reviews that contain keywords about your services, or location terms, can help Google better understand the services you offer and where you offer them. Thus, your listing may show up for more search terms and in more locations.
How To Optimize
Upon closing a client's case, reach out to them and ask for feedback with a link to your Business Profile listing. Within your outreach, suggest that they can include how you helped them, the location that the service took place, and who helped them. Read more review optimization tips.
Content
Google now takes the content of your website into consideration when determining if your business is relevant to a search.

By including quality content on your website that is relevant to the services you offer, you can show up in a more diverse number of search queries. Make sure that the content is topically relevant and of high quality.
Note: There is no need to create separate pages to target exact keywords. Using "lawyer" will also be recognized as "attorney".
How To Optimize
Create pages on your website that cover various topics in detail. Avoid creating content just for the sake of having content. Research what information your clients want and create content around those topics.
Bonus #1
A local citation is a mention on the Internet that includes, at a minimum, your firm's name, address, and phone number (NAP). Local citations reaffirm that your company's information is accurate that you conduct business locally at your address.
How To Build Citations
An outdated practice in local SEO is to add your location to thousands of low-quality directories. This no longer gives your listing as much of a boost as it once did. Instead, you want to concentrate on getting top listings on major directories.
Make sure to visit our list of top directories for law firms and create listings on, at least, the free industry directories.
Add your company to the top two data aggregates. These will send your citation to a variety of well knows directories. (Infogroup, Neustar).
Use a service such as MozLocal, Yext, Synup, or BirdEye to help create and manage your local citations.
Super Secret
Did you win a BIG settlement or take on a HUGE task? Did your firm do something newsworthy? Use a press release, and be sure to add your firm's NAP at the end to create high-value citations.
Bonus #2
Having a consistent name, address, and phone number (NAP) is a ranking factor for Google Maps. Having your NAP listed consistently across the web will reassure you that the local citations found are accurate to your law firm's information. Consistent data is also crucial for consumer trust.
How To Ensure NAP Consistency
The easiest way to maintain NAP consistency is by starting with a plan on what name, address, and phone number you will use on all of your listings throughout the Internet. Starting with a plan will help to avoid using incorrect or varying information in the future.
Fixing Inconsistent NAP
Over time, almost every business will find that that inconsistent and erroneous NAP information spreads around the Web. You can contact the website directly or use a service to correct the incorrect citations. If you prefer the latter, BrightLocal, WhiteSpark, or Synup can help.
Super Secret
If you use tracking numbers on directories such as Yelp, Avvo, Justia, etc., you will want to add those numbers to your Google Business Profile listing. You can add up to three numbers in your "Info" tab.